Injection and simultaneous pulling of ram injection lances
with separated tip
A special procedure is the simultaneous injection and pulling of ram injection lances when using the separated tip. DESOI supplies the complete equipment for manual or pneumatic machine technology. For the injection of expanding materials, a non-return valve has to be used. The system is easy to handle, can be used several times (except for the tip) and the installation is done without large equipment. Consequently, there is little impact on the soil and the immediate environment. Targeted injection by volume or pressure criterion is possible. The process is used to fill cavities in the soil, to seal e. g. dams and earth walls, and to stabilise and consolidate the soil.

INJECTION
Procedure - Injection
Set ram injection lances with separated tip
Placement of the pneumatic pulling device, securing of the substrate by scraper and support plate (No. 11516 + 11518)
Screw on bayonet plug (No. 20639-38)
Connect material hose (No. 13683) to the DESOI PowerInject SP-20
Start up the DESOI PowerInject SP-20 (No. 13576) with material
Connect the material hoses (No. 13684) and connect them to the ram injection lance
Pull the ram injection lance approx. 3 cm with a pneumatic pulling device (No. 11525)
Start the injection device, the tip is pushed out by the material flow and the material flow begins
Adjust the pulling speed according to the requirements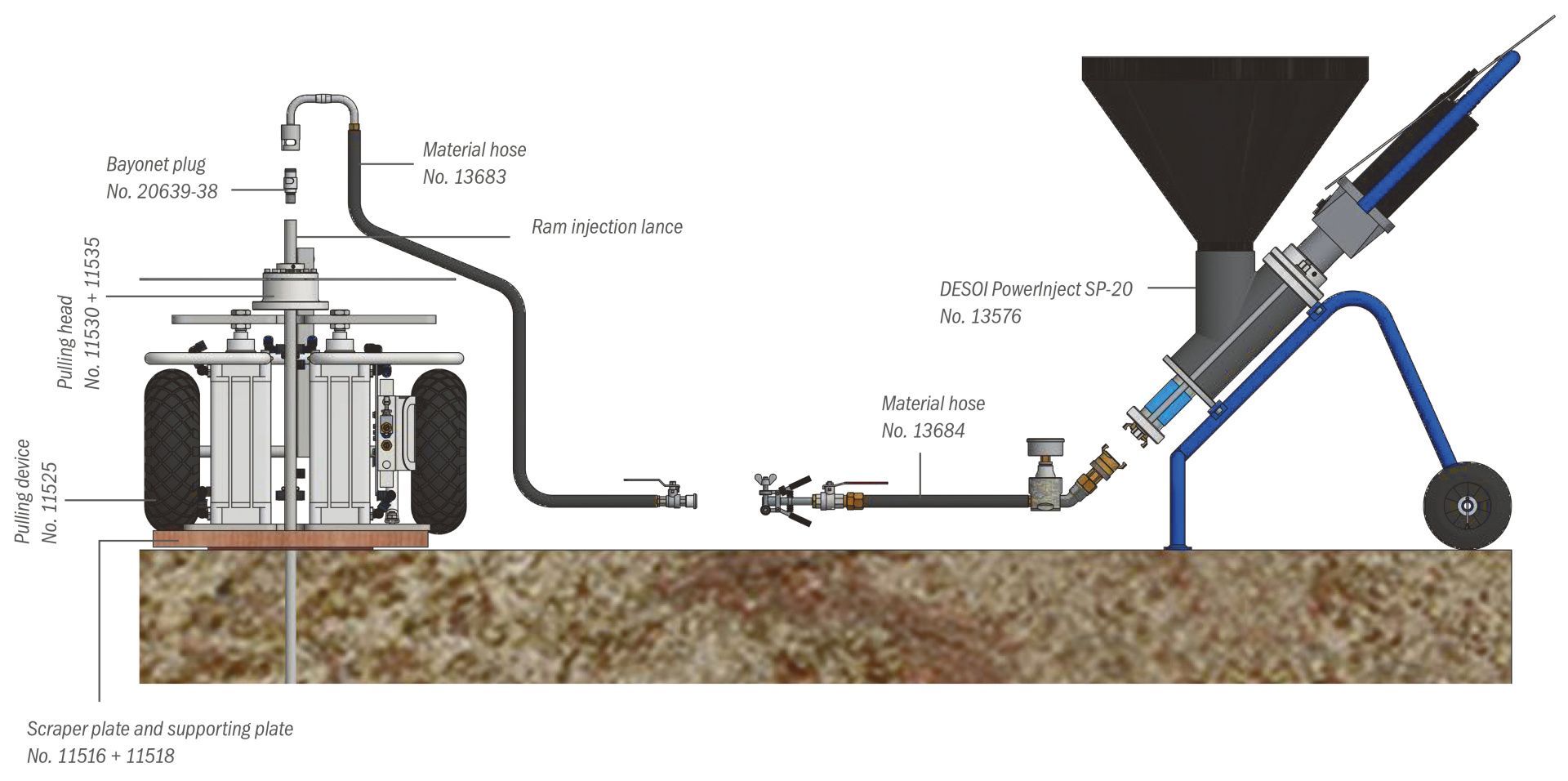 Procedure - Pulling
When the pull-out height is reached (approx. 3 m), switch off DESOI PowerInject SP-20, close both ball valves, disconnect the material hoses
Briefly open and close the ball valve to relieve the pressure from the material hose
Secure the material hose with a double spring clamp
Loosen the lance above the pulling device with two water pump pliers and turn it apart by hand
Put down the ram injection lance (rinse if necessary), disconnect the material hose
If necessary, inject and pull further lances or clean working material
Alternatively, the ram injection lances can be pulled with a mini-excavator or similar.