HYDRAULIC CYLINDER / TELESCOPIC CYLINDER
Manufacture
Production of hydraulic cylinders in accordance with customer requirements - including design if needed. All dimensions, pressure connections, mounts and seals can be configured just as the customer requires.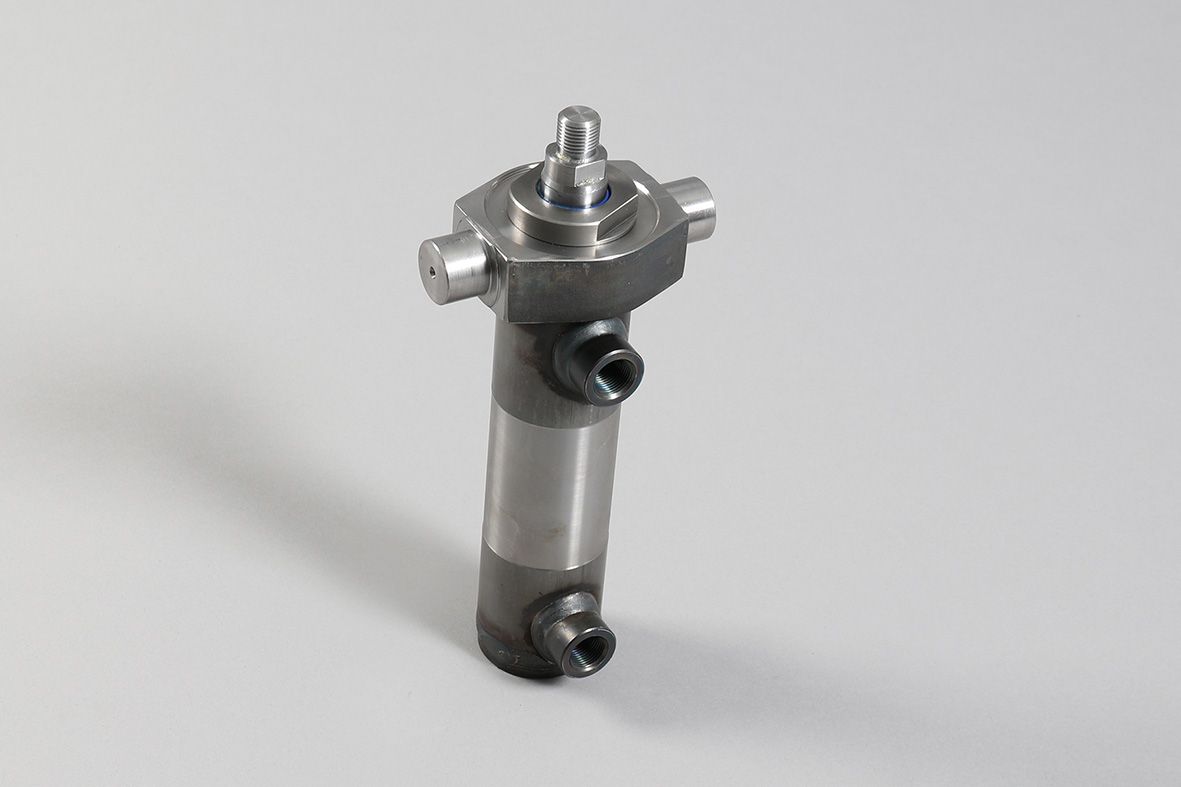 New production of hydraulic cylinders according to
agreement
customer drawing
special design in consultation with the customer
single or double acting
cylinder for higher temperature range e. g. in foundries
Production for various areas
industrial trucks
scissor lifts
construction machinery
mechanical engineering
forest vehicles
industrial plants such as rubber processing
sawmills
vehicles underground
mobile hydraulics
The hydraulic cylinders can be assembled individually, e. g. the
lifting force by selection of piston rod and cylinder tube diameter
stroke length
selection of seals
thread size of the connections
position of suspension to the connections
suspension design such as with welded-on pipe section incl. bearing, rod ends welded or screwed on, trunnion, thread, flange connection, end position cushioning
Repair
After analyzing the damage, our technicians will renew all the precision seals and replace only those parts which are defective. Since we keep a wide range of plunger rods and cylinder barrels in stock, repairs are generally possible in a very short time frame. All finished cylinders are rigorously tested on our inhouse test bench.
Hydraulic cylinder pistons
Remanufacture of broken pistons
Production in accordance with existing sample
Bent piston rod
Hydraulic cylinder disassembled, cleaned and checked
Piston rod desined an reconstruced (piston rod head cut off and welded on again)
Cylinder mounted with new seals an hydraulically pressed off
BENT PISTON ROD
Hydraulic cylinder disassembled, cleaned and checked
Piston rod desined an reconstruced (piston rod head cut off and welded on again)
Cylinder mounted with new seals an hydraulically pressed off
Piston rod with eye
Hydraulic cylinder disassembled, cleaned and checked
Piston rod desined an reconstruced (piston rod head cut off and welded on again)
Cylinder mounted with new seals an hydraulically pressed off
Piston rods
Defective mount re-welded and turned to specification
Length up to approx. 2800 mm
Line connection for welding on hydraulic cylinder
Reconstruction of defective connection
Production according to sample