DESOI


IS YOUR PARTNER FOR INJECTION TECHNOLOGY AND INDUSTRIAL TECHNOLOGY
Buy the technology of tomorrow today
Whether renovating old or creating new - DESOI is your specialist in the field of injection technology and engineering. In the middle of Germany, in Kalbach, we develop innovative solutions for the challenges of the future. Latest technologies, an in-house production and more than forty years of experience make our family business to one of the leading manufacturer worldwide.
You are looking for suitable products for your building project, you need individual designs and information on the best technologies? With DESOI you have a reliable partner at your side, who supports you in every phase of your building project. We focus on personal consultation and have a product range as diverse as the requirements of the construction industry all over the world.
Made in Germany
Customizations
24/7 Service
Your personal contact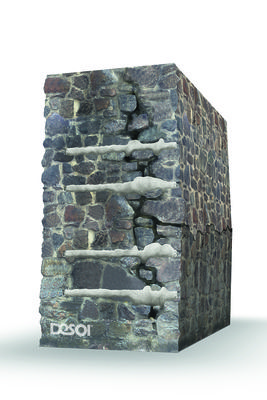 Technical report DESOI Anchor Stocking System
The DESOI Stocking Anchor System can be used to preserve historic buildings and dry stone walls as endangered living spaces.
Learn more
DESOI w.i.l.m.a. – Wireless Injection Logging Monitoring Assistent
With the DESOI w.i.l.m.a.recording and documentation device, the integration of mechanics and state-of-the-art electronics has enabled the leap into Industry 4.0.
Learn more